Lidna, over at 2nd Cup
, just celebrated her birthday and asked lots of people to contribute prompts for the Random Dozen meme. She chose one of mine! I'm so flattered! So...here's my take on the doz....won't you play along, too?
1. From "Men Are Dumb ....": If you had a theme song that played whenever you walked into a room full of people, what would it be?
My second son says "BOOM" by P.O.D. should play whenever I walk in to a room.
Strangely disturbing. He says it was his "first band" outside of what his parents liked and Veggie Tales. How that makes it MY theme song, I'm not quite sure….In case you can't decipher them, part of the lyrics say, "BOOM! Here comes the BOOM! How you like me now I say…" Never try to complete a blog post with the help of two 17-year-olds. At least he didn't say Elton John "The B**ch is Back." Sigh...
2. From Pam of "Alert And Oriented x 4": Which of your shoes are your absolute favorite, and which are of the object of your most painful shoe-buyer's remorse?
Since this is my question…I have a pair of brown open-toed pumps that I get huge compliments on that I blogged about
here
. I can wear them for about 2 hours before my toes start complaining, but, they are oh, so lovely! I have buyer's remorse for a pair of really nice black patent slingbacks that have a little gold strip right along the toe line. I actually bought the shoes for a wedding before I ever picked out a dress to go with them. They were, of course, on sale. I buy NOTHING unless it's on sale. They look A.Maz.Ing. Super dressy. To look their best they need to be worn with ultra sheer black stockings. Which make it impossible to keep the sling from slipping off my heels. They were marked down from $190 to $30, but still….sigh. Wish I'd have tried them on WITH stockings.
3. From Susanne of "Living to Tell the Story": Tell about your favorite birthday celebration that you've personally experienced.
When I turned 21, my husband had to work a double shift--all day. My in-laws wanted to take me to dinner at a family-style institution in the mountains to the east of our city called Bella Vista (since closed). It was a family-style all you can eat restaurant with all-you-can-eat fried chicken, fried fish, cole slaw and huge wedge french fries. They would bring huge baskets of everything to your table. It seemed weird that just the three of us were going there, because it's really a place to take a crowd to and I was a little bummed out because I was without Ted. When I walked in, not only was Ted there, but my dad and all of Ted's brothers and sisters and their spouses (even the out-of-towners) as well as nieces and nephews were there as a surprise. Generally I hate surprises, but not that time. I still get a little welly thinking about it. A week from Saturday I'll turn 49. Wishing Bella Vista were still open, just for the memories. The gift of yourself truly is the best gift ever.
4. From Lori of "Just me and My Life": If you were a flavor of ice cream, which would you be?
Mocha java mint chip. Mysterious with a little surprise kick at the end.
5. Cindy Swanson of "Notes in the Key of Life" asks: Have you ever had a crush on a movie star? Who was it, and are you still crushing?
I've always tended to like the rough-n-tough bad boys. Don Johnson, back in the day wasn't so bad,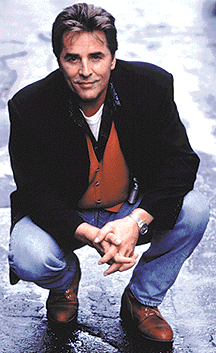 and now it's Josh Holloway
Ted, cream-cheese filling good as he is, has nothing to worry about however…
6. Jill from "Jill Boyd's Place" inquires: Glasses or braces--if you had to wear one, which would it be?
Braces. Glasses are forever. Unless you get lasik. Braces eventually come off, even if the retainer shouldn't….
7. Nel from "Fasteneau Facts" asks: If you could live anywhere in the world, where would it be?
Providing my friends and family would be there (at least when I wanted them to be), Monterey, CA….or Carmel.
8. Thena from "Patiently Waiting" wants to know: If money were no obstacle, what would be the perfect birthday gift to receive?
Precious time with my family and closest friends…no pressures, no worries. A weekend at a resort with all of them. I once heard someone say that time is the most expensive gift you can give. Once it's spent, you can never earn it back. (See # 3)
9. From "Life Through Bifocals," LynnMarie asks: What is your favorite birthday meal?
A good bloody steak, baked sweet potato and a nice girly salad with spinach and feta and strawberries. Something decadently chocolate for dessert.
Pei Wei is always nice, too...
10. Debby at "Just Breathe" checks in with: Do you still send hand-written thank you notes?
Almost always. I love receiving them. When I was little, my mom wouldn't let me play with my gifts at birthdays and Christmas until my thank you notes were all written. I WISH I'd started that with my own kids. It's just the right thing to do. However, if you are just writing a rote "thank you for the gift," without any heartfelt-ness, just skip it, or drop me an email.
11. Linda from "Mocha with Linda" poses this question: What is something you've done that you never thought you'd do?
Jump off a cliff into a lake. I'm deathly afraid to be in water that's not encased in concrete and smelling of chlorine. Lakes are worse than the ocean (I didn't say it was rational). Fish poo in there, you know. Somehow the salt in the ocean makes the poo factor more bearable. And me more buoyant. I had a near drowning incident when I was around two years old and it really made me afraid of open water. At the age of 44, with huge encouragement from my husband and kids, I jumped off a 25 foot cliff into a murky lake. And I lived to tell about it.
12. Jewel, my homegirl from Indiana who writes at "Musings from the World of Jewel," is very insistent that we answer this: Mount Rushmore honors four US Presidents: Washington, Jefferson, Lincoln, and Roosevelt. If you could add any person to Mount Rushmore, who would you add and why?
So many….Master Chief, Bob the Tomato, Neo…oh, a REAL person? I think the Apostle Paul. He was human and flawed, but like the four men there now, he strove for excellence and the betterment of all mankind. Wow. That's corny.
So write you own answers and play along over at
2nd Cup
. You'll be glad you did.